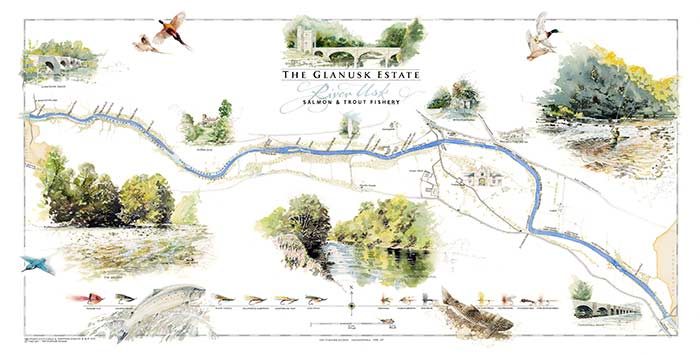 FISHING NEWS
The Glanusk Fishery has 3 beats:- Below the Bridge, Above the Bridge and the Island Beat (available on request for one rod) and operates a full Catch and Release system for Salmon and Sea Trout.  Owing to diminishing stocks in the Usk it is vital we retain as many fish of both genders to allow re-generation of the river and its tributaries.  This is in support of the recommendations of the Usk Fishing Association.
There will be no spinning or bait fishing on the Estate water unless the river is above 2 feet on the bridge gauge after 31st May to the end of the season.
Fly fishing is the only permitted method between 3rd March and 31st May.
For enquiries or to book fishing please contact the Estate Office on +44 (0) 1873 810414.
If it is dry and firm under foot, we are more than happy for you to drive up and down the river bank.  If, however, it is wet, please use the designated car parking areas that you will find on the Glanusk Fishery Beat Map.  This map is also available at the Estate Office.  Access to the Island Beat is via the Gliffaes Gate next to the entry to the hotel on the north side of the river.
Picnic lunches are available on request to the Estate Office; and the Estate pub, the Nantyffin Cider Mill, welcomes all fishermen for all types of refreshment. This is situated on the north bank on the Below the Bridge beat.
PLEASE NOTE:  On Thursday 31st May 2018 Dwr Cymru will be releasing large amounts of water from Usk Reservior for major maintenance work. The river will be affected in the upper and middle stretches.  If you are fishing the Usk this week please be aware.