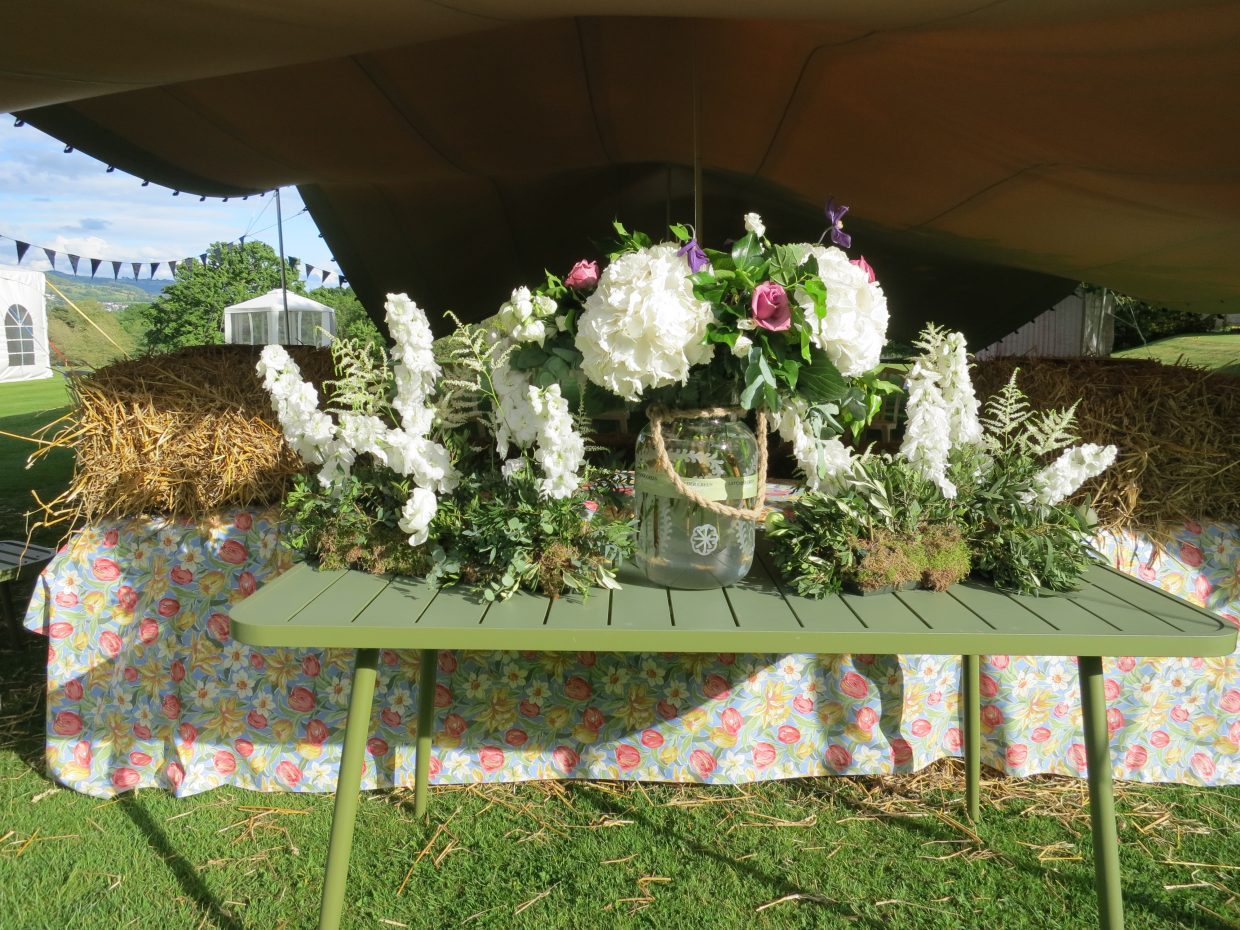 ENTERTAINING AT GLANUSK
We are really excited to be offering a new and unique event space in the gardens at Glanusk.   You will enjoy outstanding mountain and river views surrounded by beautiful gardens, set up high in front of Penmyarth, the main house on the Estate.  There is so much scope for you to tailor your day or early evening and the timing is flexible.   
A large modern stretch tent for up to 120 people
Dressed tables with home grown flowers
An easel for family photographs/information
Hand sewn country bunting to decorate the tent
6 straw bales jazzed up with floral covers
Occasional garden chairs and tables
Large firepit and wood
Boule games set
One room in the house for new mothers and refreshments for them
Access to 3 loos and one disabled loo
Coat rail and hangers, a table for hats/cake and a long mirror
Easy access/manned car parking, including disabled parking
Exclusive use of this area and gardens
Total £2,999 + VAT. 
For up to 120 people (over a 4 hour period) the following will be provided:-
Canapés (listed below) – up to 5 per person and mini Welsh cakes
Prosecco – up to 4 glasses per person
Non alcohol bar (free of charge) – Stripped cucumber, lemons and limes with sparkling water and still iced water.
Selection of sample canapés (included in the price)
Smoked salmon, cream cheese with capers on ryebread
Homemade chicken liver pâté on crostini with onion marmalade chutney
Welsh rarebit scones
Oak smoked salmon with crème fraîche on a bellini
Smashed avocado with lime juice and pine nuts on toasted sough dough
Roast beef, creamed horseradish in a croustade
Mushroom and stilton in a puff pastry cup
Mini Welsh cakes
Finger sandwiches in a selection of malted, white and oatmeal bread (£9 per person)
Coronation chicken
Tuna mayonnaise and cucumber
Roast beef and horseradish
Smoked salmon and soft cheese
Ham and cheese
Egg mayonnaise
Rich chocolate brownie mud cake tower (£3 per person)
Food for children (£6 per child)
Savory and sweet option (£15 per person)
Selection of finger sandwiches as above
Homemade scones with vanilla cream and wild strawberry jam (small plates and napkins included)
We can also recommend vocalists, harpists, male voice choirs and other entertainment.   There will be an additional charge for extra tables and chairs.  Our timings are flexible.  Please let us know if there are any dietary requirements.   VAT is excluded on all prices.
The Rod Room, which the family use for entertaining, is available for perhaps a dinner or a lunch.
There is also accommodation available on the Estate.
We want to make this day as easy for you as possible, so that you and your guests enjoy it all.  Please contact the office on 01873 810414 or by emailing info@glanuskestate.com